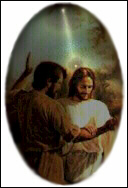 Welcome. . . and thank you for your interest in Recovery through
the Redeeming Power of Jesus' Blood. You are about to embark
on a journey designed to help you discover. . .

............. Who you are in Christ Jesus, Our Lord

This is a Bible based Recovery Program, teaching how you can
be set free from addiction, bondage and other wrong behavior
patterns.

You will learn how to apply the Blood of Jesus to your life, and
how the knowledge and truth of God's Word can increasingly
change your life. Learn how - You Can Receive . . .